Everything You Need To Know For Your First Visit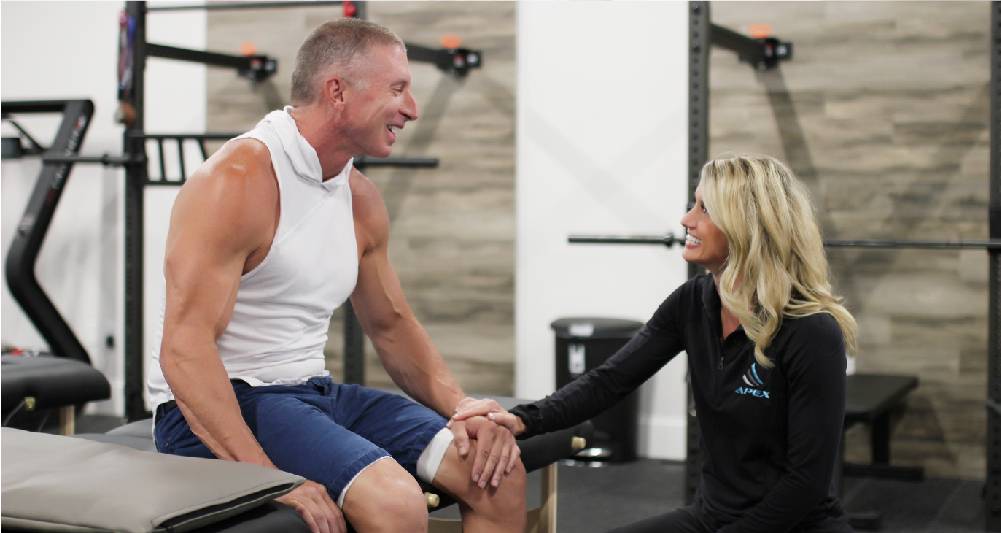 What can you expect on your first visit to Apex Physical Therapy?
It's all about you. First and foremost, we're here to listen!


A Licensed Physical Therapist will do an initial evaluation, then discuss their findings and a lay out a treatment plan. To get you on the road to recovery, we start treatment on the first day and provide instructions on what you can do at home to manage your condition.
SAVE TIME. FILL OUT YOUR FORMS AT HOME
Save time ahead of your appointment. This pre-visit packet will help you consolidate
your medical history in preparation for your visit to our office.
Print and complete this paperwork and either bring it with you to our office or fax to:
Fort Myers Office Fax: (239) 337-2738
Cape Coral Office Fax: (239) 573-8657
Email: info@apexptflorida.com
OVER 100 INSURANCE CARRIERS ACCEPTED
Apex accepts all major insurances, as well of dozens of other carriers.
Medicare
Blue Cross/Blue Shield (PPO/HMO)
Aetna (PPO/HMO)
Cigna (PPO/HMO)
United Healthcare (PPO/HMO)
Plus These Insurance Carriers, Including Auto:
Aetna Health Plans
Aetna Medicare
BCBS—NEI HBP
BCBS– NEI HBP
BCBS FL/MC Advantage
BCBS of Florida
BCBS Secondary
CIGNA
United Healthcare
AARP
AC-UAW Retiree Trust
Acadia Insurance Co
Affirmative Insurance
AIG
Align Networks c/o Image One
Allstate Insurance
AMA Insurance Agency
AmComp
American Medical Security
Auto Owners Insurance
Ameri-Plus/Ideal Life
American Pioneer
American Progressive
American Republic Insurance Co.
Banker's Fidelity
Bankers Life & Casualty
Blue Cross Blue Shield HMO/PPO
Blue Cross Blue Shield of Michigan
Bunch & Associates
Care Tenders Visiting Services
CDPHN at Patroon Creek Corp Cen.
CHAMPVA
Chesterfield Resources, Inc
CNA
Connect FCE
Constitution Life
Continental Life
Corvel
Coventry Healthcare
Definity Health by United Healthcare
Department of Labor OWCP
Department of Veterans Affairs
Direct General Insurance Co
Eberle Vivian
Empire BCBS
ErgoScience
Evercare by UHC
Excellus Blue Cross Blue Shield
FCCI Insurance Group
First Coast Service Options
First Health Network
First Service Administrators (Evolutions)
First United American Life Ins.
Gallagher Basset
GEHA
Geico
GHI
Gilsbar
Global Services
Great-West Healthcare
Golden Rule
Harvard Pilgrim Health Care
Hartford
Horizon BCBS NJ
HTPN
Humana
I.O.U.E. Local 542 Benefit Fund
Ideal Life
Iron Workers Local 395
Liberty Northwest
Life Invest. Ins. Co. of America
Lincoln Heritage Life Insurance
Mail Drop
Mail Handlers Benefit Plan
Medcoast
Medica
Medicare Complete by UHC
Medical Mutual
Medicare Railroad Policy
Medicare Secondary Payer
MedRisk
Mega Life & Health
Meritain Health
MET LIFE
Mutual of Omaha
National Alliance of Associates
Nationwide Insurance
NGS American
NJ Carpenters Health Fund
NPPN-MSIC Claims
NYSHIP Empire Plan
Oxford Insurance
Pennsylvania Employees Trust
People's Benefit Life
PGCS
PHCS Group Resources
Physician's Life Insurance Co
Plumber's & Pipefitters Local Un. 9
PMA Insurance
Preferred Care PHCS
Principal Financial
Principal Life Ins. Co
Priority 1 Card Claim Center
Progressive
PT NET
Pyramid Life Insurance Co
Royal neighbors of America
Secure Horizons by UHC
Sedgwick
Self Insured Benefit Administration
Senior Care by Mutual Perspective
Senior Care Plus
Sentry Insurance
SERS Aetna Health Plans
Special Agents Mutual Benefit Assoc
Staywell Healthy Kids
Specialty Risk Services
State Farm Insurance
Summit Claims Center
TechHealth
The Hartford
Time Insurance by Assurant Health
Traveler's Insurance
Tri Care For Life
Tri Care South
Tri-Care
TriStar Risk Management
UHC of Florida
Unicare
Unisource Administrators, Inc.
United American Insurance Co
United Medical Resources
Universal Healthcare
USAA Life Ins. Co
Washington National Conseco Ins
Wausau Benefits
Web TPA
Wellcare
World Insurance
WPS Health Insurance
WPS Tri Care for Life
LIFE ISN'T A SPECTATOR SPORT.
GET BACK IN THE GAME
We Can Get You Back To Living The Life You Love